Building a better RSS Feed
Like most people, I rarely actually visit blogs any more. I just go visit my bloglines. Well, recently I noticed the feed for this web site was insufficiently cool. The text had no paragrahs, no images, it was just terrible.
Thus I waded into the mine field of RSS formats. I read Mark Pilgrim, so I should have known it would be frustrating. I think I have an RSS 2.0 format that works: at least the Updated dates seems to make sense (ie, they are today) and I have paragraphs now. Frustratingly, there was no way I could make Bloglines go get a fresh copy, so I just had to wait. (I'm still working on the RSS 1.0 feed.) Suggestions on the format are more than welcome.
Then I discovered that if I wanted to prove to the technorati folks that I existed, I had to add javascript to my site and then ping them. Which this post will do, now that I've added them to my ping list.
Posted by Chad Lundgren on Wednesday, July 7, 2004 (Link)
Aluminum Yucca
A while back, I was driving west into Albuquerque late at night. As I neared Albuquerque, I looked up and said, "What the heck?" There was this lit-up thing right at where the canyon opens up just before you enter city limits.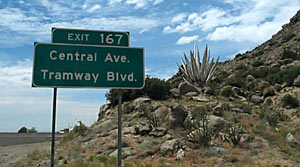 I had seen one of Albuquerque's latest public art pieces, "Aluminum Yucca." The public arts folks are working on getting gateways to each entrance to the city installed.
Well, being the photographing type, I had to get some pictures. This involved a death-defying stop on the shoulder of I-40 with semis roaring past, hopping over a wall, and clambering up some rocks, but was worth it.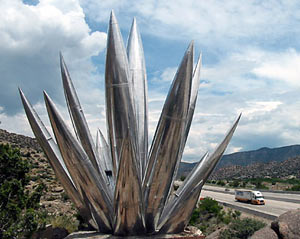 OK, it was during that day, so it wasn't that death-defying. Because I thought the sculpture looked like a bunch of rockets, discovering what it was called took a lot of googling. Since it was made with salvaged F-15 fuel tanks, I like to think I was close.
If you're into the sport know as geocaching, which is sort of a modern day treasure hunt using technology, there is a geocache near the Aluminum Yucca.
Posted by Chad Lundgren on Thursday, July 1, 2004 (Link)
Most Popular
General
Other Web Logs
Categories
Archives
Unless otherwise expressly stated, all work on this site including photos, poems, and web logs entries are licensed under a
Creative Commons License
.