Canon S1 IS Pictures and A Mini-Rant
Update (11/14/2006): Check out www.FiendishMasterPlan.com for another sunset picture, this one set in Albuquerque.
I haven't been posting regularly for quite some time, but the site's not dead, just going through a slow period.
However, I have been taking quite a few pictures with a Canon Powershot S1 IS, which I've had for nearly six months now.
My mini-review. Overall, I'm quite happy. The zoom lens is a great deal of fun, and the image stabilization actually works as long as you try just a little to hold the camera steady. With other cameras, "holding steady" was an exercise in frustration. I found that in any other light condition than full blast sunshine, handheld shooting produced too much blur. With the S1, I can go down to 1/30 and even 1/15 if I have to, although that's starting to push it.
The purple fringing issue occurs more often than I expected, but usually in small areas.
Here's a picture I could only have gotten with a zoom lens: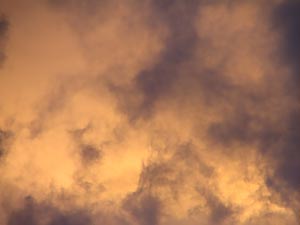 The overall sunset was decent, but these clouds look almost hellish to me, and it was the detail in them that I liked.
Here's a postcard picture taken in the Jemez, ones of my favorite places to go for landscape photography.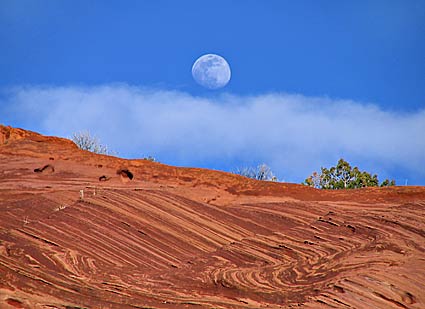 Some people would mean postcard pejoratively: I take it as a compliment. Taken at nearly full zoom.
Here's a picture I took to shut up the "But where's the picture of you with your really long shadow in it? That's never been done before!" emails I constantly receive.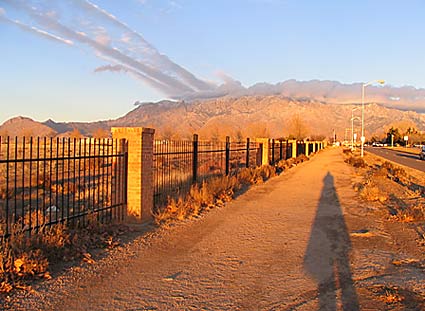 Here's the mini-rant: the follow-on to the Canon S1 IS is the Canon S2 IS. There are two problems with Canon expecting people to just smoothly upgrade: 1) They switched from CompactFlash to SecureDigital memory formats, which means the 800+ Megs I have in CompactFlash would be worthless with the S2. and 2) They changed the adapter size from 52 to 58mm, which means almost all the filters I have are worthless. What a slap in the face.
And now, I leave you with a picture I found mildly humorous: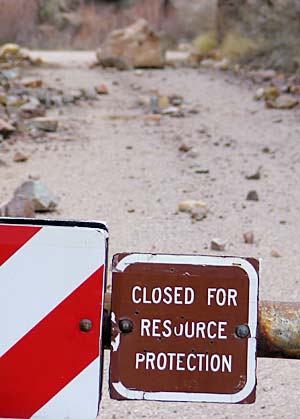 Posted by Chad Lundgren on Thursday, July 21, 2005 (Link)
Most Popular
General
Other Web Logs
Categories
Archives
Unless otherwise expressly stated, all work on this site including photos, poems, and web logs entries are licensed under a
Creative Commons License
.