Hello? Is this thing on?
I recently starting using a cable modem. I ran into a serious annoyance. I thought it had crashed and spent about 15 minutes checking cables and power cords and turning on my TV to check regular cable, rebooting my computer, all to no avail.
So I unplugged the modem, plugged it back in again. Two lights came on: the Power and PC Link lights.
After all this struggling, I decided to manually turn the power button on and off. So I did so, but then I noticed the Activity light blink for a second. Suspicious, I pushed it once, and lights started blinking faster. So I tried the Internet connection again and it worked.
Sure enough, the modem was "off" with two green lights on, including the POWER LIGHT. What kind of interface idiocy is that?
Pictures make this very clear:
Contrary to what you might think, this modem is "off".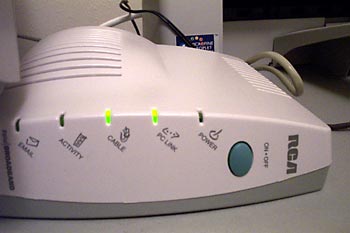 Now, this modem is on.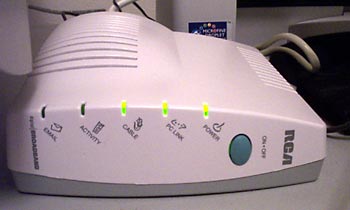 The lights do blink a lot when it's on, but that didn't help. I assumed the lights weren't blinking because something was wrong with my cable or computer. When you first plug in the power cord, the modem blinks in a subtly different way as it boots up, and it's not available then, either.
How is lighting the power light when the modem is "off" sensical? Why is the power light glowing for both "on" and "off" states? That's nonsensical.
So what precipitated the whole thing? Well, my theory is that it had to do with the sock. See, I find those blinking lights annoying and covered them with a black sock.
On a slow modem, I cared about activity because I had to. On a fast cable modem, I don't want to. I want it always on, till further notice. I must have accidentally pushed the power button through the sock.
Posted by Chad Lundgren on Friday, September 27, 2002 (Link)
Most Popular
General
Other Web Logs
Categories
Archives
Unless otherwise expressly stated, all work on this site including photos, poems, and web logs entries are licensed under a
Creative Commons License
.