Search me
A client called, wanting help getting their logo on an odd operating system. So I bopped over to the IBM site to refresh my memory, and the search engine gave me fits.
IBM does do usability, but this search page needs help, because it produced this: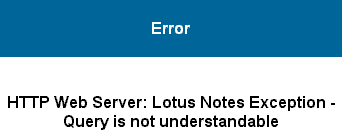 in response to my search. Nice error message, eh?
After some wild-goose chasing, I had an epiphany: I'd cut and pasted my search term, and sure enough, on looking at it more closely, it was "PCX ". The dreaded trailing space broke the search.
Posted by Chad Lundgren on Monday, August 5, 2002 (Link)
Most Popular
General
Other Web Logs
Categories
Archives
Unless otherwise expressly stated, all work on this site including photos, poems, and web logs entries are licensed under a
Creative Commons License
.