Ice Cream Follies
My girlfriend and I are enjoying a show called Good Eats, featuring the wacky Alton Brown, which inspired us to make our own ice cream. The show tells us you want the ice cream maker that does not require ice. We buy a reasonable looking model from a company named Rival®. Notice the label reading "Easy to Use... No Ice or Rock Salt Needed". [Update 03/25/2004 - Updated the URL to add an "x" to an "asp". Sigh. This page lumps all their ice cream makers into one page and does not show any detail.]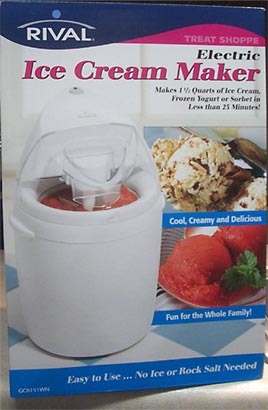 We follow the recipe and pre-cool it in the fridge. We load the ice cream in the ice cream maker and turn it on. It's noisy. It should take 30, but at 15 minutes in, it's not thickening.
Then my girlfriend looks in the manual and laughs. You have to freeze it over 20 hours before using it. It's basically a huge version of one of those frozen mugs.
What's up with that? Talk about a misleading label. My girlfriend and I had both assumed there was cool endothermic machinery involved. A quick Google search reveals that this is true of all iceless ice cream makers.
Posted by Chad Lundgren on Saturday, May 31, 2003 (Link)
Most Popular
General
Other Web Logs
Categories
Archives
Unless otherwise expressly stated, all work on this site including photos, poems, and web logs entries are licensed under a
Creative Commons License
.